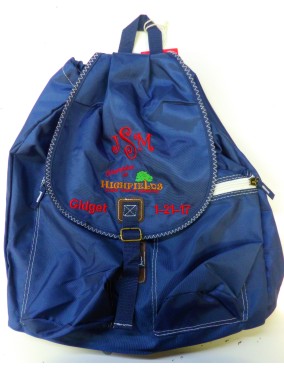 Custom Monogram Handbags – Charleston, SC
Bags are useful and functional accessories, which double as great promotional or personal items. Whether it is for style or practical use, your bag is a reflection of you. Monogramming your bag is a perfect way to make your accessory truly unique! From totes to backpacks, O'Connor Embroidery has many bag options and virtually endless monogram styling options. Make your bag your own with a custom monogram handbag in Charleston, SC!
Why O'Connor?
With over 18 years of experience in monogramming, appliqué, and embroidery, O'Connor is your first stop for custom monogram handbags in the Charleston, SC area. Our professionals ensure a quality product that is perfectly suited to your needs. Our wide variety of monogram styles and bag options allows you to create the perfect bag for you!
Bag Options
Through our suppliers, you gain access to a wide array of choices. Browse our large selection of high quality bags to add your custom monogram design to. Items include but are not limited to:
Beach Totes & Fashion Totes
Backpacks & Cinch Bags
Golf Bags
Travel & Duffel Bags
Coolers & Lunch Bags
Don't see anything you like? No problem. Bring your own bag in to us, and we would be happy to monogram it!
Monogramming Options
O'Connor Embroidery has thousands of combinations and choices for your monogram design. Select from a full range of fonts and thread colors to create a one-of-a-kind design! We will work with you step by step to create the perfect monogram for you. You can even call us to set up an in-house monogram consultation!
Order Now
Ready to order? Simply browse our catalogs and make your pick. For your convenience, you can use our online order form to place your order, or you can call us at (843)762-7600. We're happy to answer any questions you may have. Want to make your personalized order even more unique? Come on in to our office, and bring your own handbag!